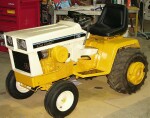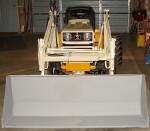 Cub Cadet Specialties
(Today is: )
Privacy and Terms Statement
Any and all personal information including e-mail and IP addresses, collected at this Web site will be kept strictly confidential and will not be sold, reused, rented, loaned, or otherwise disclosed to any third party for any purpose whatsoever.
Any information you give to us will be securely handled and stored and will not be used for any purpose other than for which it was intended.
---
Terms and Conditions
When you ("You" or "User") use this Internet web site ("Site"), You agree to the following terms and conditions (the "Use Agreement"). CC Specialties. ("CC Specialties " or "We") may revise these terms from time to time, at our sole discretion, by updating this posting. Unless otherwise provided below, the revised terms will take effect when they are posted. BY CONTINUING TO USE THE SITE, YOU ARE INDICATING YOUR AGREEMENT TO THE TERMS OF THIS USE AGREEMENT AND ALL REVISIONS THEREOF.
Third Party Relationships with Merchants, Advertisers
Your correspondence with merchants, advertisers, or Users on the Site, including payment and delivery of related goods or services, and any other terms, conditions, warranties or representations associated with such dealings, are solely between You and such merchant, advertiser, or User. You agree not to hold CC Specialties liable for any loss or damage of any sort incurred as the result of any such dealings or as the result of the presence of such merchants, advertisers, or Users on the Site.
20% restocking fee on all returned parts and or cancelled orders.
$25.00 Returned Check Charge, We do pursue all Bad Checks!
Ordering:
Everything is in stock and ready to ship unless otherwise stated. To place an order, please use our secure shopping cart. Our cart is set up to accept Visa, MasterCard, Discover and American Express. Please double check your order for accuracy. When you click the Order Now button, your order is automatically processed and can not be changed. All orders are processed the same day and all items are in stock (unless otherwise noted/Custom/SP). All items on these pages are subject to availability.
The $10.00 minimum per order does not include tax nor shipping.
Canceled orders are subject to a 25% processing fee.
If you are unhappy for any reason with your merchandise, politely contact us via email immediately to arrange for its return. We will be happy to exchange it for another Item (you pay actual shipping charges both ways) or we will credit you for the original purchase price (minus actual shipping charges & 25% restocking fee). Returned items must be received in original unused condition and postmarked within 10 days of receipt. We will not refund, for any reason, until the item is returned to us at your cost-no exceptions. Sorry, no returns/refunds on Used, refurbished, remanufactured, installed new parts, NOS or electrical items nor Sale/Clearance items.
In the rare instance that an item is damaged in shipping, please politely email us within 4 days of receipt cubparts@ccspecialties.org and we will work with the carrier on your behalf by filing an insurance claim. You will need to save the original shipping box and all packing materials in order for an insurance claim to be paid. No action can/will be taken if damage is reported after 4 days.

Recognizing who you bought from on your receipt.
It states that in 3 places when placing your order.
If you do a chargeback on your Credit Card because you failed to read,
You will be charged a $35.00 FEE, No if ands or butts!
Impatient Buyer Remorse
If for some reason your order is delayed by CC Specialties or the shipper,
And you get impatient and reverse or dispute the charge. You will be charged a $35.00 fee.
You will also be charged the fee that your Credit Card Company charges CC Specialties for Refunding the Monies after your parts arrive.
Protection of Copyrights and Trademarks
The Site contains trademarks and copyright material furnished by CC Specialties and its licensors. You should assume that everything You see or read in publicly accessible areas of the Site is copyrighted unless otherwise noted. CC Specialties authorizes you to view and down load the materials at this Site only for your personal, non-commercial use, provided that you retain all Copyright and other proprietary notices contained in the original materials on any copies of the materials. You may not sell, reproduce, distribute, modify, display, publicly perform, prepare derivative works based on, re-post or otherwise use any of the Site Content in any way for any public or commercial purpose without prior written consent of CC Specialties. You may not use the Site Content on any other web site or in a networked computer environment for any purpose. If you breach any of these Terms, your authorization to use this Site automatically terminates and you must immediately destroy any down loaded or printed copies You have made of the Site Content.
Reproduction
This site or any portion of this site may not be reproduced, duplicated, copied, sold, resold, or otherwise exploited for any commercial purpose that is not expressly permitted by CC Specialties. CC Specialties and its affiliates reserve the right to refuse service, terminate accounts, at its discretion, including, without limitation, if CC Specialties believes that customer conduct violates applicable law or is harmful to the interests of CC Specialties and its affiliates.
Links To Other Web Sites
The Site may contain links to other web sites or resources. Links to third party web sites on the Site are provided solely as a convenience to you. If you use these links, you will leave this Site. CC Specialties has not reviewed all of these third party sites and does not control and is not responsible for any of these sites or their content. Thus, CC Specialties does not make any representations about them, or any information, software or other products or materials found there, or any results that may be obtained from using them. If you decide to access any of the third party sites linked to this Site, you do this entirely at your own risk.
Disclaimer of Warranties
YOU USE THE SITE AT YOUR OWN RISK. The Site is provided on an "as is" and "as available" basis. CC Specialties expressly disclaims any and all warranties of any kind, whether express or implied, regarding any goods or services purchased or obtained through the site or any transactions entered into through the site, including, but not limited to the implied warranties of merchantability, fitness for a particular purpose and non-infringement. All items are sold as is and will only be accepted for return if we have grossly mis-represented the item and it is not what is stated in the item description or you ordered the wrong item. NOS items can not and will not be returned even if they don't fit or your tractor has been modified in any way in the past. Used parts or items can not be returned for any reason and come with no warranty or guarantees. There are absolutly no returns on electrical items after they have been opened or installed. CC Specialties makes no warranty that the Site will meet your requirements, or that the Site will be uninterrupted, timely, secure, or error free; nor does CC Specialties make any warranty as to the results that may be obtained from the use of the Site or as to the accuracy or reliability of any information obtained through the Site or that any defects in the software will be corrected. If you wish to return an item, you must within 10 days request and Return Authorization number. No advice or information, whether oral or written, obtained by you from or through the Site shall create any warranty not expressly made herein.
Indemnity
You agree to defend, indemnify, and hold harmless CC Specialties, its officers, directors, employees, agents and partners, from and against any claims, actions or demands, including without limitation reasonable legal and accounting fees, made by any third party due to or resulting from Your use of the Site or the Site Content, including without limitation claims against CC Specialties for unsatisfactory performance of information and services listed on the Site, or Your violation of this Use Agreement.
General Provisions
You are responsible for compliance with applicable local laws, keeping in mind that access to the Site Content may not be legal by certain persons or in certain countries. This Use Agreement is personal to You and You may not transfer, assign or delegate this Use Agreement to anyone without the express written permission of CC Specialties. Any attempt by You to assign, transfer or delegate this Use Agreement without the express written permission of CC Specialties shall be null and void.
This Use Agreement will be governed by and construed in accordance with the laws of the state of Minnesota. You agree to submit to the exclusive jurisdiction of the courts of the state of Iowa. If any part of this Use Agreement is held by a court of competent jurisdiction to be contrary to law, the unenforceable part shall be given effect to the greatest extent possible and the remainder will remain in full force and effect. CC Specialties failure to exercise or enforce any rights or provisions of this Use Agreement shall not constitute a waiver of such right or provision unless acknowledged and agreed to by CC Specialties in writing. You agree that any cause of action arising out of or related to the Site must commence within one (1) year after the cause of action arose; otherwise, such cause of action is permanently barred and you forever waive any such cause of action. The section titles in this Use Agreement are solely used for the convenience of the parties and have no legal or contractual significance.
The Use Agreement comprises the entire agreement between You and CC Specialties with respect to the use of the Site and supersedes all prior agreements between the parties regarding the subject matter contained herein.
$25.00 Returned Check Charge, We do pursue all Bad Checks!
We suggest that You print out a copy of this Use Agreement and retain for Your records.

DISCLAIMER
Cub Cadet Specialties is not affiliated with or sponsored by MTD Products Inc, which owns the Cub Cadet trademarks. MTD Products Inc.
is not responsible for the accuracy or quality of the material presented on this website.
For more information concerning the latest in Cub Cadet tractors, please visit www.cubcadet.com
All items marked CUB CADET are true CUB CADET/MTD made parts.
All others are replacement parts unless otherwise specified.
All parts come unpainted unless OEM Cub Cadet part, or noted otherwise
This website contains no material provided by MTD Products Inc, is not affiliated with or sponsored by MTD Products Inc, which owns the CUB CADET trademarks.
It is not an official MTD Products Inc, website, and MTD Products Inc, is not responsible for any of its content. The official MTD Products Inc, website can be found at: www.mtdproducts.com/equipment/
The information and opinions expressed on this website, including the bulletin boards and/or chat rooms hosted on this site are the responsibility of the website's owner and/or visitors,
and do not represent the opinions of MTD Products Inc.
Cub Cadet Specialties offers new and used vintage IH International Harvester Lawn mower, garden tractor parts, Cub Cadet Parts,
Diagrams, mowers, attachments and sell Genuine OEM parts for Cub Cadets
We also carry Kohler engine parts, OEM Seats, Brinly Sleeve hitch and Cat. 0 3 point hitches, Duff Norton electric lift parts,
Case IH and Cub Cadet paint and decals.
IH Cub Cadet Mufflers, exhaust system parts as well as drive clutch and PTO clutch parts.
Many NOS New Old Stock and hard to find Cub Cadet parts.
We also have many Exclusive parts not offered anywhere but on our site for Cub Cadets
Privacy Statement & Terms of Service
Copyright CC Specialties. All rights reserved. 2003-2021
* Discounts only apply to the lower 48 States.