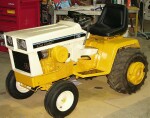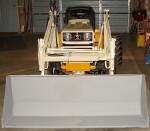 Cub Cadet Specialties
Haban
(Today is: )
Click the Parts Lookup Button BELOW to make sure you have the right PART NUMBER.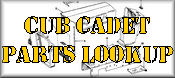 Click the Thumbnail to View Large Image
SHIPPING $10.00 PER ORDER to the lower 48 States.
International and Canadian orders Email for shipping cost before ordering.
Pivoting Gauge Wheel bolt PN/ 01001162, 616516, 710-0786, 910-0786
$9.00

Pivoting Gauge Wheel bolt nut PN/ HA-GM9414074, WD-131-1182, WD-131-70 USE 712-3022
$2.19

Pivoting Gauge Wheel bearing flange PN/ HA-12976, 01001778, 741-0339, 941-0339 Temporarily Out
$0.00

Axle pin PN/ IH-83632-C1 USE HA-14067
$36.98

Quick attach pin PN/ IH-79006-C1, HA-3430, AF-43055, AF-47134, AF-47134
$3.64

Pivoting Gauge Wheel spacer PN/ HA-5579
$0.00

Mower Blade Washer PN/ IH-486801-R1 USE HA-14306
$15.96

Mower Spindle Shaft PN/ IH-83644-C1, HA-14237, HA-20267, HA-20267P
$147.52

Haban Mower 8 inch Gauge Wheel PN/ IH-83631-C1 USE 759-3510
$52.17

Haban Mower front Castor Wheel PN/ HA-14501, 759-3609, 759-3609A
$50.26

Haban 60 inch Mower front roller kit PN/ HA-17928, HA-17739 USE 759-3948
$0.00

Mower deck belt for 60" decks 21/32 X 114 PN/ IH-487046-R1 HA-14439 754-3052 Use 954-3052

$60.69

Super heavy duty 60 inch deck caster wheel assembly Replaces PN/ HA-14501

Replacement wheels for your 60 inch deck that had the 1/2 inch bolt and hard plastic wheels.
These are premium wheels with hard rubber compound on the outside of cast iron hubs - molded on.
They come with a greaseable inner roller bearing, sleeve.

High-Strength Rubber Wheel, Open-Spoke, 6" Diameter x 2" Wide, 2-7/16" Long Hub, 820 lb. Capacity

Fits 374 60 inch mower

$62.34 Ea.

Deck outer pulley PN/ IH-1286689-C1 USE HA-14239

Fits 325 60" Mower, 190-325-100

$57.28

Cross Shaft Support Strap PN/ HA-14297

Push snow dirt Blade Reinforcement Bracket

Fits pretty much any tractor using a 54 inch front blade including cyclops

$17.00

HEAVY DUTY (T1 Plate Steel) Skid Shoes for Haban Snow Dozer Blades Replaces PN/ HA-12356

Fits 401 54 inch Haban front Snow Blade 190-401-100

$56.00 Set

Haban snowblower / thrower cogged drive V-Belt Replaces PN/ IH-1254788-C1 21/32" x 38"

Fits H42 H48 353 354 Snowblowers

$22.00

Snowthrower / Blower Tiller INNER bearing PN/ IH-475627-R92

Fits Thrower models C36, CC42, BB36, QA36, QA42

Fits 265, 268, 328 Snow Blowers & 50 Snow Thrower

Fits Haban H42 & H48 Snow Throwers/Blowers

$26.00 Ea.

x
Deck PN/

$0.00

DISCLAIMER
Cub Cadet Specialties is not affiliated with or sponsored by MTD Products Inc, which owns the Cub Cadet trademarks. MTD Products Inc.
is not responsible for the accuracy or quality of the material presented on this website.
For more information concerning the latest in Cub Cadet tractors, please visit www.cubcadet.com
All items marked CUB CADET are true CUB CADET/MTD made parts.
All others are replacement parts unless otherwise specified.
All parts come unpainted unless OEM Cub Cadet part, or noted otherwise
This website contains no material provided by MTD Products Inc, is not affiliated with or sponsored by MTD Products Inc, which owns the CUB CADET trademarks.
It is not an official MTD Products Inc, website, and MTD Products Inc, is not responsible for any of its content. The official MTD Products Inc, website can be found at: www.mtdproducts.com/equipment/
The information and opinions expressed on this website, including the bulletin boards and/or chat rooms hosted on this site are the responsibility of the website's owner and/or visitors,
and do not represent the opinions of MTD Products Inc.
Cub Cadet Specialties offers new and used vintage IH International Harvester Lawn mower, garden tractor parts, Cub Cadet Parts,
Diagrams, mowers, attachments and sell Genuine OEM parts for Cub Cadets
We also carry Kohler engine parts, OEM Seats, Brinly Sleeve hitch and Cat. 0 3 point hitches, Duff Norton electric lift parts,
Case IH and Cub Cadet paint and decals.
IH Cub Cadet Mufflers, exhaust system parts as well as drive clutch and PTO clutch parts.
Many NOS New Old Stock and hard to find Cub Cadet parts.
We also have many Exclusive parts not offered anywhere but on our site for Cub Cadets
Privacy Statement & Terms of Service
Copyright CC Specialties. All rights reserved. 2003-2021
* Discounts only apply to the lower 48 States.